The code runner for PHP
Tinkerwell is a REPL on steroids. It allows you to run code snippets within the context of your application without hitting the browser. It's the perfect companion to your favorite IDE and works with any framework – locally, via SSH, Docker and even on Laravel Vapor.
Framework wonders
Tinker with any PHP application or framework, including Laravel, Symfony and WordPress. You'll get support for the most popular PHP frameworks out of the box – and you can add support for others by writing a custom driver.
The best-in-class autocompletion and editor experience
Tinkerwell indexes your codebase and provides you with an outstanding code completion experience. Quickly find exactly the part of your code that you need with our fuzzy search logic, no matter if you are searching for classes, methods, constants, or simply chain method calls.
Helpful documentation snippets make tinkering with your code even easier.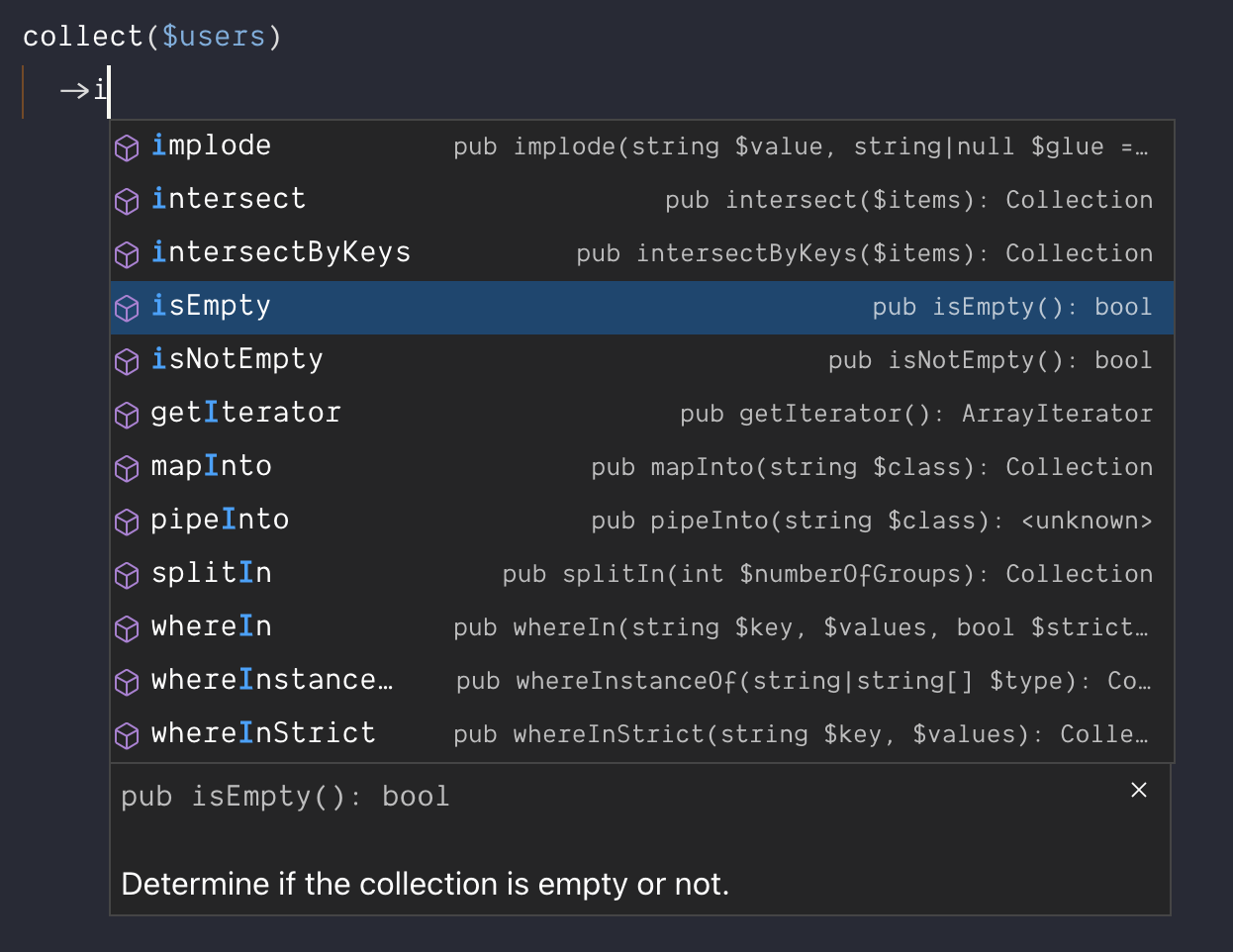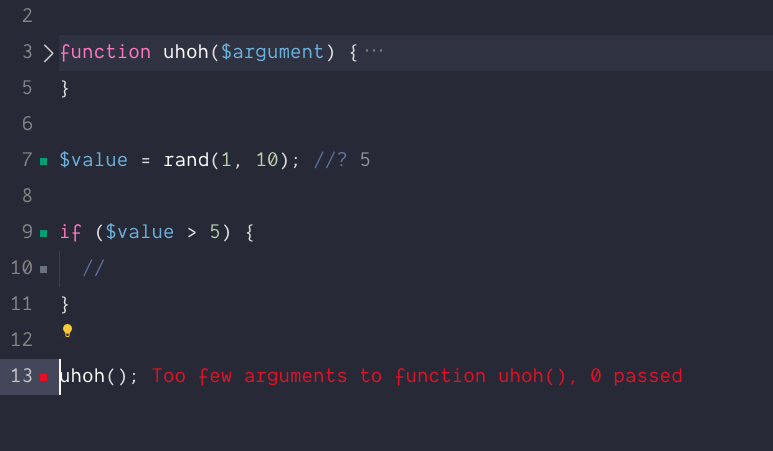 Magic comments, automatic code coverage, inline-error messages, and more
Using a special comment syntax you can quickly dump out variables, perform method calls in the middle of a method chain, and even measure the time of your code execution. With automatic code coverage, you always know exactly which line of your code was evaluated and which one wasn't.
Made with you in mind
All the tools we build at Beyond Code have one main goal – to help make your life easier. And Tinkerwell is no different.
Save time

There's no need to waste time opening browsers, creating test URLs and uploading apps to servers.

Improve your workflow

Make Tinkerwell part of your daily development toolkit and your life will instantly become easier.

Boost your productivity

When you start using Tinkerwell, you'll wonder how you were ever productive without it.
The sky's the limit
Tinkerwell is more than just a tinker tool. Way more. And when you discover all it has to offer, you won't be able to imagine a world without it.
Run code via SSH Run your PHP code on remote servers – without modifying your live code or files in any way.
Magic Comments Debug your PHP code with the usage of magic comments and live code-coverage like never before.
Get free rein with PHPStorm. Take advantage of Tinkerwell's innovative features and run code directly from your favorite IDE, PHPStorm.
Bring data to the table. Browse any database record as an interactive table and export it via CSV – no matter where your data's from.
Quickly query. Run your code with query inspection enabled to get more insights into your Laravel applications.
Tinker on Laravel Vapor Evaluate your code on any of your environments – including Laravel Vapor and Docker.
Trusted and tested by the best
Tinkerwell is trusted by more than 12,000 developers across the globe. Here's what they have to say.
"I've pretty much used Tinkerwell every day since it was released."

Taylor Otwell

Creator of Laravel

"I don't know why anyone wouldn't use Tinkerwell. I can't even remember how I used to test code on the go before it."

Mohamed Said

VP of Engineering at Foodics

"I use Tinkerwell all the time now. Love that app."

Eric L. Barnes

Creator of Laravel News
"I use Tinkerwell every single day and have 25 tabs open at any one time. It's the essential tool for Laravel developers"

Jack Ellis

Co-founder of Fathom Analytics

"Amazing. I don't know how I lived without it. Much better than my former workflow."

Israel Araujo

Developer

"Tinkerwell is the fastest way to test an idea or debug an application. It just keeps getting better and better!"

Jess Archer

Laravel Core team member
"Tinkerwell quickly became an essential part of my daily Laravel workflow. It's easily the biggest upgrade to my dev experience in years."

Gilbert Pellegrom

CTO at Lemon Squeezy

"My productivity soared with Tinkerwell. This should be part of every PHP developer's toolkit."

Alex Garrett-Smith

Founder of CodeCourse

"Tinkerwell is the swiss army knive for every developer's daily work. It's that essential."

Lars Peterke

Developer
"Gone are the days of creating a whole PHP app just to test a function or two. Tinkerwell has helped me level-up as a developer."

Sam Carré

Head of engineering at Codepotato

"Pretty rad man. With the auto reload functionality as I type, it makes it easy to debug a lot of the logic in my apps. Very well done."

Tony Lea

Developer at Cirricula

"Tinkerwell takes the guess work out of development. It's one of the few apps that lives on my toolbar - I reach for it daily."

Daniel Ferguson

CTO at Imperial Wealth
Pay once, use forever
Every purchase includes a perpetual license that you can use forever.
Tinker, tailor, time to buy
Don't waste another second. Save your time and increase your productivity by adding Tinkerwell to your daily workflow.
Got a team? Invest in your people and save some extra cash with our team license.
Tinkerwell
(The price can include local taxes or VAT)
Available for macOS, Windows and Linux
License for two devices
14-days money-back guarantee
Monthly updates (Changelog)
Perpetual license (pay once, use forever)
Already got a license?
Renew your existing license
Take one for the team
Treat your team to the workflow that they deserve
If you work in a team and would like to introduce Beyond Code tools to your colleagues, we offer team licenses for all of our products. Simply request a quote that you can share with your manager or purchasing department and we will get back to you as soon as possible.